Growth-focused CMO skilled at optimizing brand positioning and transforming underperforming businesses augments talent at the "Executives-as-a-Service" firm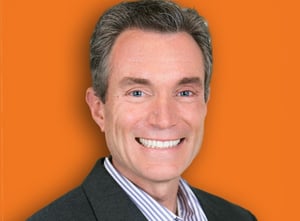 SAN DIEGO, CA – March 27, 2018 – After two decades of success optimizing business performance and driving growth in the consumer goods, packaged goods, and retail industries, strategic marketing leader Brian Ricci is the latest fractional Chief Marketing Officer to join the ranks of Chief Outsiders, one of the nation's fastest growing management consulting firms.
Ricci's appointment symbolizes the urgency for growth-focused consumer and product focused enterprises to collect and leverage customer insights as a means of maximizing the impact of their product, sales, and marketing efforts. The operational efficiency and effectiveness savant offers his senior marketing and general management mastery to assist growth-focused companies in optimizing distribution channels, aligning marketing programs, and increasing product demand.
Prior to joining Chief Outsiders, Ricci led North American marketing and product management for Watkins Wellness ®, the global leader in hot tubs and the fastest growing business unit within a Fortune 400 home improvement company. During his tenure, he delivered strong growth in leads and lead-driven sales by optimizing inbound marketing, digital media investments, and website performance. Additionally, as a marketing executive for Del Monte ® Foods and G.L. Mezzetta ®, he spearheaded cross-functional efforts to effectively identify cost savings and successfully revamp pricing and promotion strategies.
"Brian embodies the value of working with a Chief Outsider – the ability to partner with an accomplished leader who will translate the customer and competitive insights that future-forward businesses are gathering into tangible, measurable strategies," said Karen Hayward, Managing Partner of Chief Outsiders' West team. "Working with an expert in digital marketing, as well as cross-functional business efficiency, allows companies to focus on the opportunities that drive measurable revenue and profit growth."
Ricci holds an MBA from the Anderson School of Management at the University of California, Los Angeles, as well as a B.A. from the University of California, Los Angeles. A native of San Francisco, he now resides in San Diego, where he enjoys coaching his son's baseball team, spending time on the golf course, and giving back to his community through charities like the American Cancer Society and St. Jude Children's Research Hospital.
About Chief Outsiders
Chief Outsiders, LLC is a nationwide "Executives-as-a-Service" firm, with more than 60 part-time, or fractional, Chief Marketing Officers (CMOs) engaged from coast-to-coast. Unlike other strategic marketing and management consulting firms, each CMO has held the position of VP Marketing or higher at one or more operating companies. Chief Outsiders have served on the executive team of over 600 client companies to drive growth strategy and execution plans for a fraction of the cost of a full-time executive.
Because of its market-based growth plans, quality of leadership, and experienced team, Chief Outsiders has been recognized for the past four years by Inc. Magazine as one of the 5,000 fastest growing privately held companies in the US, and was recognized in the Houston Business Journal's Fast 100. Chief Outsiders' CEO Art Saxby and Principal Pete Hayes are the co-authors of "The Growth Gears: Using a Market-Based Framework to Drive Business Success," an Amazon #1 best-seller for business owners and CEOs. For additional information about the companies who trust Chief Outsiders as their premier source for business growth acceleration, click here.