"Executives-as-a-Service" firm welcomes home, health and family products and solutions leader to provide fractional CMO services to customer experience-focused B2B and B2C companies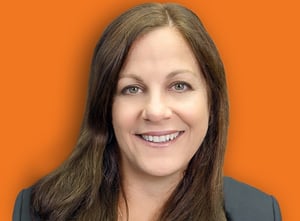 BOSTON, MA – September 26, 2018 – Drawing from a celebrated career of developing and marketing products that improve lives and livelihood, product strategist and customer experience specialist Dana Lanham is the latest distinguished CMO to offer her marketing and business growth competencies through Chief Outsiders.
Lanham's skill for delivering impactful holistic product and brand experiences at every touch point provides immense benefit to organizations in need of finding new ways to drive revenue and transform products and brands into sustainable growth engines. Dana has focused on listening to consumers to define and deliver products and solutions that consistently meet their evolving needs and purchase behavior. The former SharkNinja, Greenworks Tools and Newell Brands executive uses insights to strategically plan and develop innovative products and solutions that exceed expectations.
In addition to her tenures as SharkNinja's VP of Global Product Strategy of Floorcare, Greenworks Tools' VP of Marketing and Irwin Tools' Global Director of Brand Marketing, Lanham served as Managing Partner and CMO at Fun2Market Consulting, VP of Marketing and Communications at Drexel Heritage Home Furnishings, and Global Marketing Leader of BSN-Jobst Medical Compression Products. Before holding these roles, she was Global Director of Marketing and Retail Marketing for Mattel Toys, and in various product management positions with Hasbro Games.
Lanham's achievements include growing Mattel's Game category business by more than 300 percent in five years; successfully launching BSN Medical's groundbreaking primary care physician channel for the Jobst brand; and driving double-digit category share and revenue growth for SharkNinja in both floorcare and new markets. Innovative thought leadership in social media marketing initiatives, loyalty programs, and brand sponsorships has allowed Lanham to surpass go-to-market growth goals, and facilitate new positioning, refreshed content and segmentation strategies to drive new business and customer retention.
"Whether selling to end-consumers or other businesses, home, health and family product companies are faced with increasingly competitive markets and customers demanding something unique and special," said Slade Kobran, Managing Partner of Chief Outsiders' Northeast Team. "Mid-market firms requiring fresh insight in how to develop and market products and services that delight and satisfy their buyers and decision-makers will benefit tremendously from Dana's customer-focused expertise."
The Boston resident holds a BBA in Marketing from the University of Massachusetts at Amherst, as well as an MBA in Marketing and Finance from Western New England University.
About Chief Outsiders
Chief Outsiders, LLC is a nationwide "Executives-as-a-Service" firm, with more than 60 part-time, or fractional, Chief Marketing Officers (CMOs) engaged from coast-to-coast. Unlike other strategic marketing and management consulting firms, each CMO has held the position of VP Marketing or higher at one or more operating companies. Chief Outsiders have served on the executive team of over 700 client companies to drive growth strategy and execution plans for a fraction of the cost of a full-time executive.
Because of its market-based growth plans, quality of leadership, and experienced team, Chief Outsiders has been recognized for the past five years by Inc. Magazine as one of the 5,000 fastest growing privately held companies in the US, and was recognized in the Houston Business Journal's Fast 100. Chief Outsiders' CEO Art Saxby and Principal Pete Hayes are the co-authors of "The Growth Gears: Using a Market-Based Framework to Drive Business Success," an Amazon #1 best-seller for business owners and CEOs. For additional information about the companies who trust Chief Outsiders as their premier source for business growth acceleration, click here.