The accomplished, creative innovator and social media pioneer is the newest fractional CMO to join the diverse, leading-edge Southeast group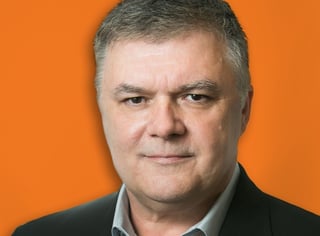 SARASOTA, FL – March 23, 2016 – Jay Dunn, an accomplished marketing thought leader, has joined the Southeast team of marketing strategy consultants for Chief Outsiders, an "Executive-as-a-Service" firm that delivers battle-tested CMO expertise to growth and mid-market companies.
Revered nationwide for his ability to integrate traditional marketing with social media, mobile, content marketing, and eCommerce, Dunn is a true 21st century CMO, boasting an impressive track record of driving sales and customer growth for some of America's most well-known companies and brands.
As the former CMO of Bare Necessities, Dunn led the intimate apparel retailer to unprecedented growth, doubling sales, customer growth, and market share in under three years.
Before that, as head of marketing for Lane Bryant, Dunn developed the 2010 national marketing campaign that launched the "body positive" movement for plus-size women. His "Not What Mom Would Wear" campaign caused a controversy between TV networks Fox and ABC, which initially refused to air the ads. What followed was a phenomenon in viral, online, and publicity activity, resulting in more than $43M in earned media, robust sales growth, and brand awareness. At one point at the height of the campaign, Lane Bryant measured one tweet every eight seconds as Fox eventually relented and aired the ads. The brand appeared on hundreds of news and entertainment shows, including The Tonight Show and Saturday Night Live. Brandweek named it the Top Campaign of 2010.
Dunn has also helped drive growth in marketing leadership positions at consumer favorites like The Home Depot, Brookstone, and Char-Broil.
In addition to his impressive ability to troubleshoot organizational challenges and to stimulate viability, Dunn brings to his clients the added advantage of a strong creative and editorial background and a laser-like focus on the digital space. He's the co-author of "The Art of Social Sales," published by Oracle; and has also served as a contributing writer to Social Media Today.
"Jay is imaginative, forward-looking, and possesses the valuable skill of knowing when to question the status quo," said Tom McCrary, head of the Southeast group. "From startups to Fortune 500 organizations, every mid-market company in the Southeast desiring an integrated, holistic view of their marketing strategy – and a winning plan to go with it – would benefit in working with Jay."
Dunn maintains roles as an advisor to the CEOs of technology companies Jebbit and inStream Global Media, sits on the CRMC Advisory Board, and has held board positions at the Global Retail Marketing Association, National Retail Federation, and the Zimmerman Advertising Program at the University of South Florida.
Dunn resides in Sarasota, Florida, and is available immediately to serve B2B and B2C CEOs and their leadership teams across the Southeast, especially those who need support in today's noisy arenas of social media advertising, brand development, value positioning, eCommerce optimization, and product differentiation.
About Chief Outsiders
Chief Outsiders, LLC, an "Executives-as-a-Service" firm, helps grow mid-sized companies from coast-to-coast with more than 40 part-time, or fractional, Chief Marketing Officers (CMOs) who have held positions of VP Marketing or higher at one or more operating companies. These individuals' breadth of experience makes it possible for Chief Outsiders to put the right skill set on a leadership team of any company for a fraction of the cost of a full time executive. Unlike other strategic marketing and management consulting firms, Chief Outsiders works with company leadership teams to develop and implement market based growth plans. Chief Outsiders believes delivering a world-class marketing strategy on its own creates little value and that the real value is created by helping the organization implement the growth vision.
Because of its market based growth plans, leadership and experienced team, Chief Outsiders was recently listed by Inc Magazine as one of the 1,000 fastest growing privately held companies in the US (in the top 25 in Houston) and recognized for the Houston Business Journal's Fast 100. Businesses seeking Chief Outsiders as a premier source include: ErgoGenesis, Five Stone Tax, Summa Technologies, and Riverside Company portfolio companies OnCourse Learning, YourMembership and IDoc, Source Capital portfolio companies such as Abutec, and Merrill Lynch Specialties Group portfolio companies such as EarthColor.
CONTACT: Sterling Wilkinson, 817-771-2997, SWilkinson@ChiefOutsiders.com