New CMOs Topher Wurts, Mike McGinn, and Craig Wilson Take a Hands-On Approach to Deliver New Growth to Small and Midsized Businesses in the Northeast and Throughout the U.S.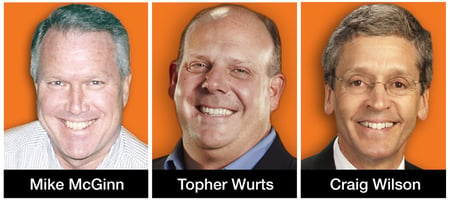 HOUSTON, TX – SEPTEMBER 14, 2016 – Chief Outsiders, an Inc. 5000 company, continues its track-record of growth by adding three new experienced growth experts to its team of Chief Marketing Outsiders. Topher Wurts and Mike McGinn, both based in the Philadelphia area, and Craig Wilson, based in Connecticut, join other Chief Outsiders in Boston, New York, New Jersey, Pennsylvania and throughout the U.S. to help small and midsized businesses find and capture new growth opportunities.
Topher Wurts has been building businesses since starting his first software company in high school. He's a natural change-agent comfortable in various client scenarios from startups to turn-arounds, to acquisition and integration projects, to enterprise level companies. Prior to joining Chief Outsiders, Wurts was CMO for Axioma where he used a data driven and content based direct marketing and public relations approach to challenge the category creator, become the segment thought leader, and shorten sales cycles resulting in a doubling of annual contract value in three years. His work at Axioma culminated in an expansion phase refinancing by two noteworthy Private Equity funds. In addition to Axioma, Wurts has delivered growth as an operating executive for Liquidnet Holdings (CMO), Reuters America (CMO), Boardwalk (CEO), Instinet (VP Desktop Products), and Network Two (VP Enterprise Business). Wurts has been an advisor, director, and investor in over fifty technology and media startups. In 2015, Wurts, who is an "autism dad", began work on a 501c3 non-profit called Autism Village to take a "Silicon Valley Approach" to applying mobile and web technologies to help the billion-person global autism community with the practical day-to-day challenges of life with autism.
"The most exciting work is driving successful growth through a well thought out, creative, and well executed plan. I'm excited to join the amazing roster of CMOs at Chief Outsiders who are doing this and delivering excellent results for their clients every day," said Wurts.
Mike McGinn has a track record of more than 20 years of marketing and sales excellence and achievement. He joins Chief Outsiders from his most recent position as Founding Principal at SPG Solutions, an advisory firm providing thought leadership and proven processes for driving sustainable profitable growth. As Head of North American Sales for consumer and industrial coatings company Whitford Corporation, McGinn restructured the sales force, while expanding, coaching, and mentoring the sales team to deliver a double-digit increase in sales. He delivered similar growth to Coyne Textile Services, an $80 million privately owned leading textile services outsourcing company, and has held Marketing and Sales roles at Kodak, Ecolab, Aviom, and Shure where he played a key role as part of the executive team which restored the company to profitability and increased revenues by over $100 million in three years. McGinn holds an MBA from The Whitman School at Syracuse University, and a BA from Saint Bonaventure University.
"I have found that my philosophy of the role Marketing can play in the growth of company was shared by my new colleagues at Chief Outsiders," McGinn said. "Marketing is not just communications, which is crucial, but in a much broader sense Marketing is the engine that drives growth. My role is to determine for clients where the best opportunities for growth and development are, and help them target those opportunities to build their business in a strategic and profitable manner."
Craig Wilson brings a fresh perspective to clients' businesses, delivering organizational alignment that drives results. Throughout his career he has delivered hundreds of millions of incremental dollars in revenue and profit to the companies that he has served by aligning insights, mission, brand, strategy, process and discipline. Wilson joins Chief Outsiders from his most recent executive position as Vice President of Direct Marketing for North American Power and Gas, where he delivered a Return on Marketing Investment of more than $15 million while reducing customer acquisition costs by 14%. At The Travelers Companies, where he was Vice President, Retail Marketing and Vice President, Product Management - Personal Insurance, Wilson delivered $100 million in incremental revenue over a 3-year period in addition to improved ROI, product enhancements, increased participation of independent insurance agents in key company programs, net growth in property insurance premiums, and increased market share. Wilson's previous executive operating roles include Director of Corporate Marketing at International Paper, and marketing and product management roles at the Select Energy Division of Eversource, Berkshire Hathaway, Inc.'s Duracell Division and Stanley/Black & Decker's Hardware Division. Wilson earned a B.S. in Marketing from Pennsylvania State University and an M.B.A. from the University of Connecticut.
"I'm proud and excited to be a member of Chief Outsiders where I can leverage my skills, experience and Chief Outsiders' resources to help client companies grow their businesses," said Wilson.
"I am thrilled to welcome Topher, Mike, and Craig to Chief Outsiders," said Slade Kobran, managing partner of Chief Outsiders' northeast team, "Each brings a unique mix of experience and expertise to our already strong team. Their addition allows us to meet the increasing demand for hands-on executive-level support small and midsized business leaders can leverage to successfully enter new markets, profitably expand existing customer bases, or restart stalled growth. Topher, Mike, and Craig are available immediately to begin working with clients wherever they may be."
EndFragment
About Chief Outsiders
Chief Outsiders, LLC is a nationwide "Executives-as-a-Service" firm, with more than 40 part-time, or fractional, Chief Marketing Officers (CMOs) engaged from coast-to-coast. Unlike other strategic marketing and management consulting firms, each CMO has held the position of VP Marketing or higher at one or more operating companies. Chief Outsiders have served on the executive team of over 300 client companies to drive growth strategy and execution plans for a fraction of the cost of a full time executive.
Because of its market-based growth plans, quality of leadership, and experienced team, Chief Outsiders was listed by Inc Magazine as one of the 1,000 fastest growing privately held companies in the US (in the top 25 in Houston), and was recognized in the Houston Business Journal's Fast 100. Chief Outsiders' CEO Art Saxby and Principal Pete Hayes are the co-authors of "The Growth Gears: Using a Market-Based Framework to Drive Business Success," an Amazon #1 best-seller for business owners and CEOs. For additional information about the companies who trust Chief Outsiders as their premier source for business growth acceleration, click here.
CONTACT: Sterling Wilkinson, SWilkinson@ChiefOutsiders.com