Customer loyalty, financial growth among touchstones of Smith's record of success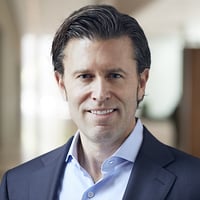 PHILADELPHIA, PA – March 13, 2019 – Though the "Midas touch" is the stuff of legend, it's hard to argue that Rich Smith doesn't share at least something in common with folklore's gilded hero. Smith – with a storied record of sales growth success at every stage of his executive marketing career – is now offering go-to-market insights as a member of the "Executives-as-a-Service" team at Chief Outsiders.
Smith joins the nation's leading provider of fractional Chief Marketing Officers to companies of all sizes after ringing up success for an impressive array of companies in the banking, insurance, mortgage, and healthcare verticals. Along his journey, Smith helped a start-up behavioral health company increase revenue by $50 million in one year of operation; drove loan production from zero to $25 billion annualized and achieved a #3 ranking from JD Power in less than two years as CMO of Ditech Home Loans; and developed and implemented a digital strategy for AIG Bank during the peak of the financial crisis that transformed the company and helped return it to profitability.
With Chief Outsiders, Smith hopes to work with companies of all sizes in financial services, healthcare, insurance, banking, consumer finance, mortgage, and behavioral health to help them drive customer acquisition, customer loyalty and profitable growth.
"Rich is passionate about helping CEOs differentiate their businesses in the most competitive market segments," said Slade Kobran, Managing Partner of Chief Outsiders' Northeast Team. "Rich has a track record of delivering results in high-pressure situations, is adept at developing profitable business plans while aligning and fostering transparency between CEOs, CFOs and marketing, and has been the architect behind the building of remarkable brands."
Smith holds an MBA from the Lerner School of Business and Economics at the University of Delaware and gained his undergraduate degree – a B.S. in Economics – at Penn State University. Additionally, Smith has his Associate in Personal Insurance from the American Institute of Chartered Property Casualty Underwriters and the Insurance Institute of America.
About Chief Outsiders
Chief Outsiders, LLC is a nationwide "Executives-as-a-Service" firm, with more than 60 part-time, or fractional, Chief Marketing Officers (CMOs) engaged from coast-to-coast. Unlike other strategic marketing and management consulting firms, each CMO has held the position of VP Marketing or higher at one or more operating companies. Chief Outsiders have served on the executive team of over 700 client companies to drive growth strategy and execution plans for a fraction of the cost of a full-time executive.
Because of its market-based growth plans, quality of leadership, and experienced team, Chief Outsiders has been recognized for the past five years by Inc. Magazine as one of the 5,000 fastest growing privately held companies in the US, and was recognized in the Houston Business Journal's Fast 100. Chief Outsiders' CEO Art Saxby and Principal Pete Hayes are the co-authors of "The Growth Gears: Using a Market-Based Framework to Drive Business Success," an Amazon #1 best-seller for business owners and CEOs. For additional information about the companies who trust Chief Outsiders as their premier source for business growth acceleration, click here.