Veteran chief marketers cited for their success in helping to bring strategic growth to client companies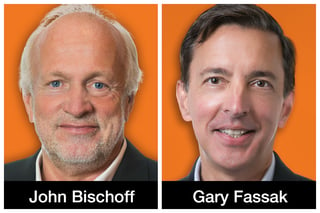 HOUSTON, TX – September 13, 2017 – Veteran marketing executives John Bischoff and Gary Fassak are the latest CMOs to earn partner status at Chief Outsiders, the nation's largest "Executives-as-a-Service" companies providing fractional Chief Marketing Officer services to midmarket companies, it was announced today.
Bischoff and Fassak earned the elevated role for their efficacy in leading the firm's clients to greater go-to-market success and improved ROI. Chief Outsiders now features more than 60 such fractional CMOs on its roster of executives, available to plug in quickly for companies looking to bring new growth to their businesses and get to the next level.
Bischoff, with a storied executive career spanning more than three decades in varied industries including telecommunications, security, travel, tourism, and others, first joined Chief Outsiders in November 2015. Slade Kobran, managing partner for Chief Outsiders in the northeast praised Bischoff for his ability to help the clients go-to-market more effectively and identify areas for future growth. "John is a great partner", said Kobran, "he's not only helped his clients identify new areas to expand their business, he's also helped improve how they go to market today."
Fassak is a consumer goods, foods, hospitality, and manufacturing industry veteran who joined Chief Outsides in March 2016. Fassak's clients have noted his technical expertise, advice, and ability to work with and as part of their teams. "Gary's clients receive tremendous value from their work with him, including insights into the business, strategic direction, and tactical programs.", said Kobran, "The work Gary has done has helped his clients think of a number of critical business areas differently, which has really helped identify and serve the needs of various customers more effectively."
"We are so pleased to recognize both John and Gary for the excellent value they've brought to our clients," said Slade Kobran, Kobran added, "Both John and Gary exemplify our goal of making big things happen for small and midsized businesses, and I am thrilled to welcome them as partners."
About Chief Outsiders
Chief Outsiders, LLC is a nationwide "Executives-as-a-Service" firm, with more than 55 part-time, or fractional, Chief Marketing Officers (CMOs) engaged from coast-to-coast. Unlike other strategic marketing and management consulting firms, each CMO has held the position of VP Marketing or higher at one or more operating companies. Chief Outsiders have served on the executive team of over 500 client companies to drive growth strategy and execution plans for a fraction of the cost of a full-time executive.
Because of its market-based growth plans, quality of leadership, and experienced team, Chief Outsiders has been recognized for the past four years by Inc. Magazine as one of the 5,000 fastest growing privately held companies in the US, and was recognized in the Houston Business Journal's Fast 100. Chief Outsiders' CEO Art Saxby and Principal Pete Hayes are the co-authors of "The Growth Gears: Using a Market-Based Framework to Drive Business Success," an Amazon #1 best-seller for business owners and CEOs. For additional information about the companies who trust Chief Outsiders as their premier source for business growth acceleration, click here.