The difference between a marketing executive working inside the business and on the board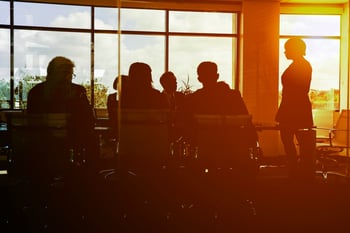 A standard part of the private equity playbook is to find seasoned executives to fill seats on the boards of their portfolio companies. Increasingly that includes someone with a strong marketing pedigree who can provide advice, guidance and support to both the management team and the board on an ongoing basis. But this approach may not be enough for many mid-market firms, especially in an environment where acquisition prices are on the rise, exit multiples are shrinking, and the pressure mounts from LPs to deliver outsized returns.
Why not?
Quite simply, for most portfolio companies, the board is just not engaged enough with company management to impact performance and implement change on a day-to-day basis. For most mid-market firms, the board's role is primarily one of support and governance. Board members are typically recruited from the ranks of the PE firm – often deal partners focused on financial results – along with a few trusted executives from the industry. They are there to review management plans, challenge assumptions, share their expertise, and assess company performance. Board members may be able to periodically dive-in deeper to work with company management on a short-term basis, but they don't usually have the bandwidth to devote significant time to the development and implementation of plans and programs that will drive returns that beat the market. Many of the most successful private equity firms are finding that to deliver those returns, they need someone working more closely with company management in a more hands-on and direct way than most board members tend to be.
Isn't that what Operating Partners are for?
In some cases, yes. The Operating Partner is able to devote the time needed to work closely with company management and dig into issues and opportunities to drive results. For many firms however, Operating Partners just don't have the bandwidth to get that involved. Most Operating Partners are involved in a broad-range of activities for the PE firm, and are trying to accomplish a lot across multiple companies in the portfolio. In fact, one study found that operating groups are involved in anywhere from 1-2 dozen tasks, and find it difficult to manage more than monthly communications with company management beyond the first 100 days. This is especially true for middle-market/lower middle-market focused firms with multiple portfolio companies and management teams who don't already have the experience and professional approach to deliver the growth necessary to drive multiple expansion. For these firms, we often see management teams skilled at running the company, but not as adept at growing the company – which is a key reason the private equity sponsor has invested in the first place.
In addition, great marketing is harder than it looks and many operating partners tend to come from operational backgrounds themselves, such as finance and procurement. They are not experienced at the critical elements of marketing that can improve go-to-market performance – whether it's product strategies, value-added pricing, segmentation and targeting, or the mix of new programs and channels – traditional and digital – to get the company's name, message and value found.
So does that mean that every portfolio company should go out and hire a senior marketing executive?
Not necessarily. The truth is, great marketing talent is often out of reach to all but the largest companies. In addition, many firms can't afford a full-time CMO, and quite frankly, many companies – especially in the middle-market - don't need one. Add to that the time pressure on both management and the PE firm, and the time it takes to hire key executives – 6 months or longer in many cases – and bringing in a full-time marketing executive is simply not a viable option for many firms. Add to this an average CMO tenure of 18 months, and you can see a full-time CMO hire is not always the best option.
For these firms, a part-time or fractional CMO can be an optimal choice. As a seasoned marketing executive, the right fractional CMO can work directly with company management to address near-term performance, and build a more sustainable engine for growth. A fractional CMO trained to engage effectively with both the private equity firm and the portfolio company, can add:
A trusted resource operating as a member of the CEO's team who can provide strategic insight, unbiased advice, and guidance to the executive team, along with hands-on support and execution
World-class marketing leadership without long-term commitment or additional permanent costs
New growth capabilities developed and directed by a leader who knows the space, sets direction and builds the team
An ability to see the business in new ways and draw on a wealth of industry knowledge
New programs and channels – traditional and digital – to get the company's name, message and value found
A well-orchestrated plan, launch and execution that leads to enhanced speed and urgency inside the company
Better systems and organizational capabilities that are effective and accountable
Mentoring and coaching to the marketing team and others in the organization to build long-term skills and performance
Improved accountability and communication with the board and financial sponsors
In this environment, a fractional CMO can be a valuable resource who can effectively bridge the world between the company CEO and the board. Once these elements – a true engine for growth – are in place, many companies find they are able to bring in a solid marketing director who can continue to engage with the management team to keep the engine running and delivering revenue and EBITDA for the long-term.
So how can a fractional CMO help increase valuation?
While addressing the company's marketing performance for the near-term is a good thing, the real lasting value lies in that engine for growth. Beyond filling the pipeline, gaining near-term market share, and hitting revenue, cash-flow and EBITDA targets over the next few quarters, an engine for growth will create lasting, strategic impact on the performance of the business by delivering an improved operating rhythm of revenue generation. Not only will this mean better predictability and accountability in revenue generation, which the next buyers will pay for, a true engine for growth will change the slope of the growth curve, allowing for multiple expansion at exit.
So if a fractional CMO is not part of your playbook, you may be missing out on an opportunity to add true value to your portfolio, and deliver those outsized returns your investors are looking for.
Download this insightful study which identifies seven blind spots evident among private equity firms seeking portfolio company growth.