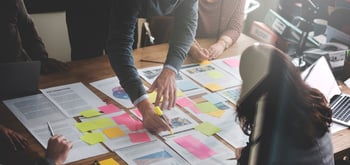 The end of the year is a great time to step back and look at the broader strategic direction of a portfolio company's growth plan and go-to-market approach. Here are 5 key elements to a comprehensive review.
Private equity firms aren't afraid of data, and they have kept a close eye on performance metrics all year long. No doubt GPs will know the results and how they stack up against expectations. But as the year draws to close, it might be time to look at the overall strategic direction of your go-to-market approach and marketing effort.
According to Slade Kobran, Managing Partner and CMO of Chief Outsiders, GPs should review five issues before heading home for the holidays: growth strategy, pricing, channels, leadership and competitors. But again, at the end of the year, the nature of that review should be one that steps back from day-to-day results and thinks about longer-term patterns and opportunities. This is the time to see the forest from the trees.
1. Suss out that growth strategy
Is it working out as expected? The results may be tallied, but now's the time to delve into the reasons the company is where they are in relation to the value creation plan. "Whether the company is ahead, behind, or below plan, see how strong the strategy is," says Kobran. "How is it tracking to the original investment thesis and value creation plan? If the Company had to pivot because certain things didn't work out, or new opportunities appeared, is the plan sufficient to pivot successfully? Even if they are on-target or ahead, could they be doing more to accelerate growth?" It's a matter of discussing where the Company is growing, why it's growing and how that connects to the GP's longer-term plans.
2. Vet the team
This is less about a standard issue performance review, and more of a step back to decide if the right skills are on board, and if not, how they might be added. All these issues are interconnected, so as a GP reviews that growth strategy, it begs the question, is leadership capable of delivering on that plan? "Take a look at the CMO, or the Head of Marketing and see if they're really contributing and providing the leadership that's necessary. Also make sure they have the right team in place – both internal and external – to address not only today's needs, but also tomorrow's opportunities," says Kobran.
3. Channel matters
A GP may know how existing channels are performing, but maybe this review is a chance to see if there are new distribution channels or if there are issues with any existing ones. Again, this review is about asking the questions that a GP may not have the chance to over the course of the year. The focus should be on maximizing return and reaching the broadest set of customers in a way that maximizes both the top and bottom-lines while maintaining a positive impact on the company's value proposition.
4. Pricing and sense
"Take the time to look at absolute pricing, and perhaps more importantly, pricing structure," says Kobran. He sees this end of the year review as a chance to toss around ideas about pursuing longer term clients or new recurring revenue streams. "Maybe there's a way to gain a bigger share of the wallet, and it's just a matter of asking that question."
5. Size up the competitive landscape
The final major issue is a Company's place in the market. If it's a branded company, how strong is that brand? What are customer perceptions? What does the market think? How are its peers performing? Kobran expects these questions just might identify takeaway opportunities from competitors, and even spark the idea for potential acquisitions.
But as much as this exercise is about the big picture, the reality is that any major change will take an investment in money and time. As soon as the big picture comes into view, the response to it has to be considered in terms of the tactics, which all too often take longer and cost more than expected. However, come December, it can be invaluable to ask the bigger questions that don't get asked all year long.
Download this insightful study which identifies seven blind spots evident among private equity firms seeking portfolio company growth.