By: Carol Eversen and Jeff Loeb
Part 3 -

Technology and Reporting

In part 2 of our four-part blog series we explored the core tenet of every successful ABM initiative – orchestration and personalization across sales, marketing, and customer success teams. Part 3 delves into the technologies available to support ABM and helps articulate how different tech stack elements can be leveraged to support your ABM program. We also provide thoughts about the essential elements of reporting for an ABM initiative.
ABM Technology Infrastructure
Martech vendors delight in aligning with marketing trends and developing solutions to support them. ABM is no exception. Hundreds of martech solutions fall in the ABM category.
The ABM technology landscape can be very confusing, with martech vendors offering overlapping solutions with sometimes difficult to decipher claims.
As mentioned in part 1 of the series, the "ABM elephant" looks different depending on whether you touch the trunk, leg, or body. Thankfully, as the industry matures, the elements of an ABM tech stack begin to coalesce.
Five categories of ABM solutions according to Forrester
ABM platforms
Data providers
Customer data platforms
Personalization solutions
Sales engagement platforms
Terminus, 6Sense, and Demandbase remain the three most widely recognized ABM platforms as of this writing. While these solutions include broad ABM capabilities, they usually work in conjunction with other core tools such as marketing automation and CRM and not as standalone products.
According to the 2021 ABM Benchmark Survey by DemandGen, CRM and Marketing Automation Platforms form the two basic ABM tech stack building blocks. The most deployed additional ABM martech solutions include:
Intent monitoring tools (42%)
Measurement and reporting tools (38%)
Campaign execution and orchestration tools (36%)
Web and content personalization tools (36%)
Account-based advertising tools (34%)
Pro Tip: Don't let the complex ABM martech landscape slow you down. Start simply with a crawl, walk, run approach. In most cases, having a CRM and marketing automation system in place is enough to get started.
When evaluating ABM martech solutions, start by checking review sites like TrustRadius, G2 and Capterra.
Some useful review site links:
https://www.trustradius.com/account-based-marketing-abm
https://www.g2.com/categories/account-based-marketing
https://www.capterra.com/account-based-marketing-software/
As your program matures, expand your ABM tech stack.
A mature ABM tech stack could look like this: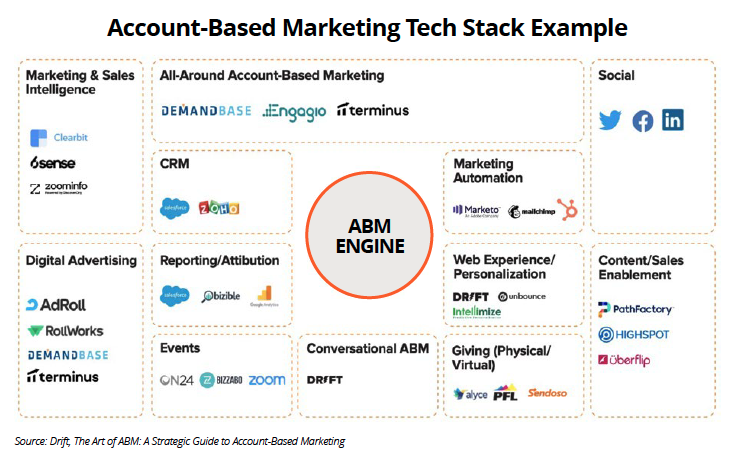 ABM Reporting
Companies seeking ABM success want to understand how to measure ABM effectiveness and identify the reporting tools needed to operationalize an ABM initiative.
Important considerations include:
What are the key categories of ABM measurement?
How do ABM metrics differ from traditional marketing metrics?
What metrics matter?
What are the key categories of ABM measurement?
According to ITSMA, the following describe three important categories of ABM program measurement:
Reputation

Drive preference with named accounts
Build reputation in new markets
Improve internal credibility

Relationships

Identify and engage with key stakeholders
Deepen relationships for insight and innovation
Develop references, referrals, and advocates

Revenue

Grow and accelerate pipeline
Sell www offerings and enter new markets
Increase win rate and deal size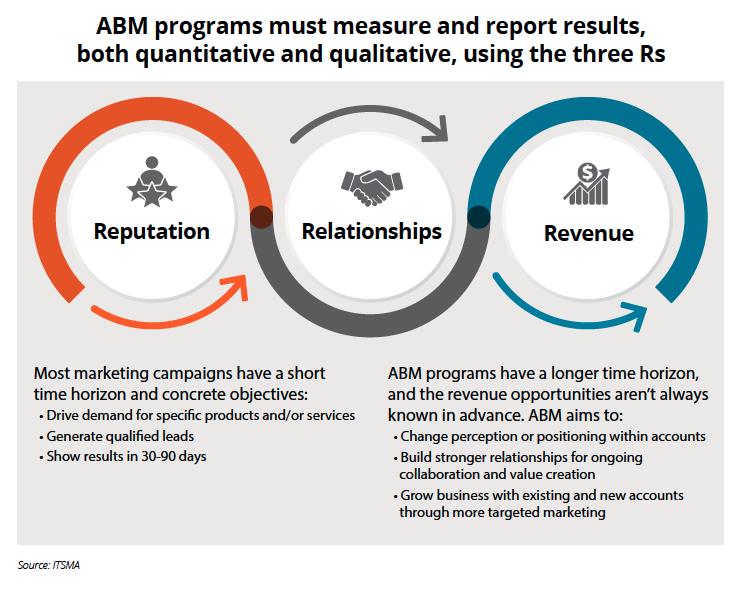 How do ABM metrics differ from traditional marketing metrics?
A key difference in ABM measurement lies in the focus on account-level versus contact-level activity and metrics. A fundamental tenet of ABM dictates that marketers target multiple contacts within the buying teams of target companies that fit the ideal customer profile.
So, where a classic lead measurement focuses on generating MQLs (marketing qualified leads), ABM focuses on MQAs (marketing qualified accounts). The key distinction being MQLs focus at the individual contact level, where MQAs focus at the account level.
Driving engagement across multiple contacts within a target account becomes the goal. As illustrated below, we want to track account level activity and progress throughout the customer journey.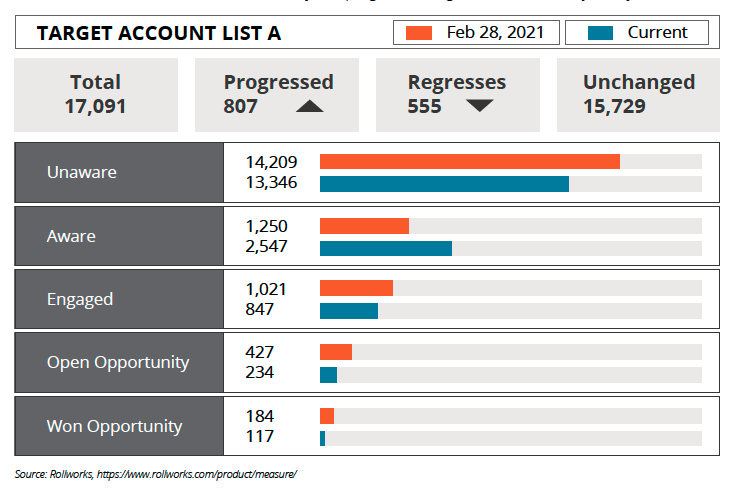 Which metrics matter?
Examples of key ABM metrics include:
Number of target accounts
Number of contacts per target account
Accounts reached
Account level engagement
Meetings scheduled
Marketing Qualified Accounts (MQAs)
In Part 4 of our four-part ABM blog series, we focus on the best strategies for ABM programs, offering a framework to help determine whether ABM is right for you, and, if so, the flavor of ABM to deploy. We also provide practical advice about how to get started with an ABM pilot program.
In case you missed the first two blogs in the series:
Authors: