By: Carol Eversen and Jeff Loeb
Part 4 - Getting Started with ABM
In part 3 of our four-part ABM blog series, we explored the technologies available to support ABM and articulated how different tech stack elements can be leveraged to support your ABM program. We also provided thoughts about the essential elements of reporting for an ABM initiative. In part 4 we focus on the best strategies for ABM programs and offer a framework to help determine whether ABM is right for you, and, if so, the flavor of ABM to deploy. We also provide practical advice about how to get started with an ABM pilot program.
When to Use ABM and Which Approach to Deploy
ABM works as an incredibly powerful strategy. It works most effectively when built with clarity around target accounts and allocated adequate resources (technology-based or human) for success.
That said, scenarios arise in which ABM is NOT the best approach to take to achieve your goals. In those situations, traditional demand gen programs and channels may work best.
The framework below helps to determine whether ABM is right for you, and, if so, the flavor of ABM to deploy.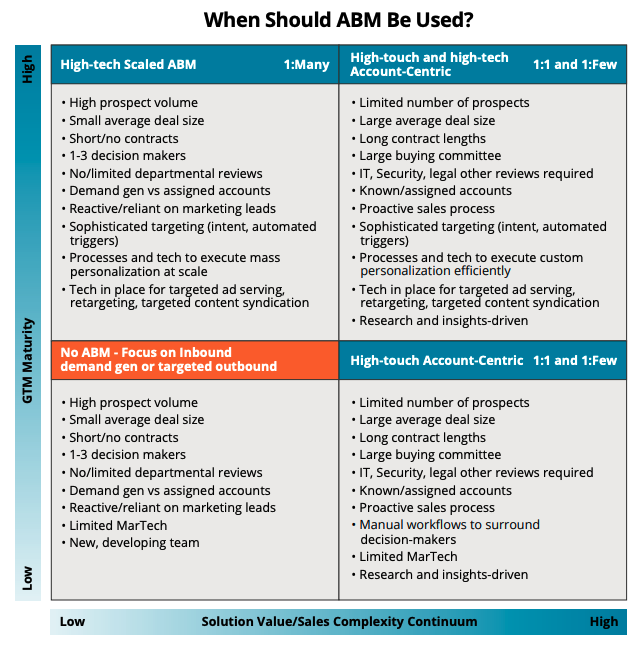 When to Use ABM Framework Axes Definition and Considerations
GTM Maturity - Team preparedness for the increased complexity of an ABM program, experience level of the team, marketing technology in place to support automated ABM initiatives, team resources comfortable with marketing technology
Solution Value - Number of prospects; average deal size across the market; average contract length accepted in the market
Sales Complexity and Strategy - Known/assigned accounts vs reliance on lead gen; proactive/strategic accounts worthy of investment, single buyer versus large buying committee, the need for departmental reviews (i.e., IT review, security review, legal review, etc.), typical deal velocity
Description of Each of the Four When to Use ABM Quadrants
High-touch and High-tech Account Centric - ABM Marketing strategies in this quadrant are either one-to-one or one-to-few. There tend to be fewer prospects with large average deal sizes and long contract durations. The sales process is typically complicated, and the buyer journey is elongated with numerous team members on the buying committee.
Solutions typically require functional reviews. Marketing and sales teams in this quadrant are sophisticated and possess a combination of budgets and technologies necessary to help nurture assigned accounts (both new prospects and expansion) through the buying cycle. There exists an intricate orchestration of sales and marketing resources to support the information needs of extended buying committee members while working to improve sales velocity.
Technologies leveraged often include intent data, automated triggers, retargeting, ABM-based content syndication, and other digital channels. Marketers leverage traditional channels (events, webinars, custom research, executive outreach, etc.) in conjunction with digital channels.
High-touch Account Centric - Also one-to-one and one-to-few. This quadrant is similar to the above in terms of the profile of target accounts and the nature of the buying process within the accounts. And typically, accounts are assigned to individuals or teams. The key difference lies in the fact that marketing and sales teams in this quadrant are less sophisticated.
They do not possess a high level of technology, nor the resources necessary to optimize technology. Sales and marketing do partner together though, and leverage more traditional channels (events, webinars, custom research, executive outreach, etc.) to support and nurture accounts through the buying cycle.
High-tech Scaled ABM - Strategies deployed in scaled ABM are typically one-to-many. Marketing and sales teams operating in this quadrant typically are targeting industries or market segments that have higher prospect volumes, smaller average deals sizes, less complex contractual arrangements, and reduced numbers of parties engaged in the decision process.
Very often sales teams are aligned around territories rather than named accounts. The business is typically much more reliant on marketing leads than is the case with the above two quadrants.
Scaled ABM teams operate with sophisticated technology that allows them to execute mass personalization efficiently. Team members are comfortable deploying the technology and understand the associated analytics. Sales and marketing are tightly aligned and typically organized as teams around segments.
No ABM Focus on Inbound demand gen or targeted outbound - The combination of resource constraints and broad customer targets makes ABM impractical for this segment. Emphasis here should be on traditional demand gen channels.
How to Get Started with an ABM Pilot Program
Often daunting in its complexity, getting started with an ABM initiative becomes a major hurdle. In our experience at Chief Outsiders, taking a crawl-walk-run approach greatly increases the opportunity for success.
Our best practice approach begins with a Minimum Viable Pilot (MVP) during the crawl phase. The scope of the pilot should be carefully crafted so that initial success can be achieved within a few months.
ABM Minimum Viable Pilot (MVP) Guidelines
Create pilot goals jointly agreed upon by sales and marketing leadership
Select a manageable number of accounts for the initial pilot (between 10 and 50)
Leverage existing technology and minimizing the need to implement new tools during the pilot phase
Limit the pilot in terms of use cases, stage of the customer journey, and success criteria. For instance, pilot goals could include:

Schedule X meetings across net new accounts targeted in the pilot
Drive expansion deals by scheduling Y roadmap workshops with installed base target accounts

Leverage existing content and keeping to a minimum the dependence on significant new content development necessary to achieve success
Consider this recommended approach for structuring and executing an ABM pilot that we know from experience accelerates results and minimizes risk.

Finally, it's important to recognize that for ABM to take root and succeed within an organization, it needs to be treated as a cross-functional GTM strategy, and not just a marketing tactic. This means that sales and marketing alignment is critical.
The minimum viable pilot becomes an opportunity to build trust between sales and marketing teams, experience initial success, gain learnings, and create the conditions for the ABM initiative to move from crawl to walk to run.
Use ABM to Drive Revenue Growth and ROI
ABM offers the promise of improved ROI, increased revenues from new and existing accounts, reduced deal cycles, increased conversion of target accounts, and increased efficiency and effectiveness of sales and marketing dollars.
The variety of approaches, technology, jargon, plays, and recommended practices in the market today can be overwhelming.
Just remember: ABM is not about the technology. It's about the accounts you are targeting and the buying committees, buying process, and buyer needs. The technology exists to support your strategy, not dictate the strategy.
Simply take a step back and determine exactly what you need to accomplish, the nature of your specific challenge, implications for creating an ABM program, and resources you have available to take action. With this guidance, you can successfully define a program that works for the market you are targeting as well as for your organization.
We hope the above information provides you with the blueprint for assessing what ABM programs make sense for you, how to organize your ABM strategies and tactics, and what you need to do to get started.
Our goal with this four-part blog series is to demystify ABM and provide a framework and practical guidance to accelerate your ABM success. ABM is a high-impact go-to-market strategy that requires deep cross-functional alignment across sales, marketing, and customer success teams. It is not "just another" marketing tactic or channel to be activated. When implemented well, the benefits are clear – higher win rates, larger deals, increased marketing ROI, and the winning spirit that comes from alignment and success. Just like a stool can't stand on one or two legs, an ABM program needs three legs:
A strategy that fits your capabilities and market dynamics
A solid understanding of the key ABM pillars needed for success
A practical approach for getting starting and evolving your initiative
We hope that by sharing our experiences implementing many ABM initiatives, you can benefit from our lessons learned and accelerate your success!
In case you missed the first three blogs in the series:
Authors: