How healthcare CEOs can advocate a balanced contextual diet for their enterprise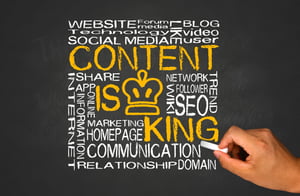 By now, we've all heard the phrase "content is king"—and it seems that most industries or businesses in today's marketplace are able to benefit from an association with linguistic royalty.
Consumers in the fiefdom of "King Content" are hungry for information – finding that the wisdom to be gleaned from business-driven prose makes them savvier, and better informed.
For healthcare CEOs, the elevation of content from marketing tactic to strategy is a natural confluence of interests — from hospitals to medical technology companies to health websites, we're all striving to achieve a more concise, novel way to relate to our patient community.
But, since marketing continuously evolves, has the definition of "content" changed yet again? And, if it has, what does this mean for us as healthcare CEOs as we consider the best way to approach the future of our content marketing strategies? Interestingly, in the competitive rush to adopt the most relevant and contemporary approach, many firms are hustling to gain an edge and save money by shifting toward more cost-effective techniques of content curation.
Unlike content creation, which is the development of original, enterprise material (think new blogs, press releases, interviews, whitepapers, and videos), content curation is the sharing of others' relevant content – a process that can be automated via tools like Scoop.it, and Paper.li. While content curation is a way of increasing the amount of material on a webpage, by design, it prioritizes quantity over quality.
The key question to ask in considering this new curated concept, for healthcare interests, is thus: Can content curation provide enough accurate, targeted information for our target audience, or are we sacrificing crucial informational effectiveness for cost effectiveness in an industry that must be authentic and trustworthy?
The answer, as you might expect, lies in the strategy. Deciding up front what your content mix will be; what your standards and thresholds are for public-facing content, and how you will use it to drive social and search-engine objectives, are paramount.
When executed correctly, a solid, audience-engaging content marketing strategy will drive highly qualified leads to your website while simultaneously building your brand and setting your company apart from the competition.
Inspired to begin? How do you get started, and what's the best way to build your content marketing strategy to ensure success?
The Technique of Content Curation
Content curation is ideal for businesses seeking to increase web traffic and engagement. Curation allows companies to disseminate large volumes of content, which is ideal for building an audience. In addition, updating content consistently increases web crawling. By linking to, or reposting articles that are on "trending" topics, you can catch some wind for your own sails in a very impactful way. Indeed, such outlinking can generate up to 33% more clicks, according to some studies, than linking to internal properties.
The Artistry of Original Content
On the opposite hand, creation of enterprise content can ultimately power higher engagement rates—in fact, in the same study referenced above, respondents noted that links to owned pages have a 54 percent higher click-to-conversion rate than posts linking to third-party websites.
While content curation seems like a viable solution for the cost-conscious, curation can also become a labor-intensive process. Careless curation can quickly frustrate viewers and drive them away from your webpage. Content curators may also be inclined to overload webpages with information and links, making your website visitor-unfriendly.
Content Marketing Best Practices
Hopefully, the message you are receiving here is that, regardless of your chosen strategic focus, quality, not quantity, is the key to execution. Keyword stuffing and excessive linking only serves to penalize websites—especially given Google's insistence on quality links. In addition, curators must cite sources, and provide links, to avoid plagiarizing.
Links should be relevant, interesting and legible. Each homepage should offer relevant context to readers and, furthermore, relate content directly to the benefit of products and services, to ensure consumers develop a rapport with the business.
Content creation and content curation—like peanut butter and jelly, or Abbott and Costello (but not necessarily Kanye and Kim)—work best when utilized as a couple. Curated content is what will attract viewers, and well-written content will ensure they come back. Original content is what retains interest in a brand. Many marketers feel the right balance between created and curated lies — unsurprisingly — somewhere around 50/50.
Content Marketing in Healthcare
Each content marketing strategy must be tuned to its industry, and many would agree that the internet is simply saturated with healthcare content. For the curator, this represents a good well of material to repurpose, crosslink, and connect. Effective curation should result in a nice, balanced mix between material that is new and readable, without being overly technical or complex, and should also include infographics, blogs, articles, videos, and podcasts.
For executives and hospital administrators, a good curation strategy will land you among the content elite, with interest in thought leadership gaining steam, according to Google Trends data. Content curation demonstrates that a company is willing to see different perspectives, establishing it as a mover in the industry. This is a relevant concern for healthcare organizations desirous of being viewed as cutting edge.
In this ilk, content creation is the warmer, fuzzier companion – demonstrating that a healthcare enterprise is 100 percent invested in consumer-connecting outreach. Content creation builds brand loyalty by showing the company is devoted to that cause or topic.
Ultimately, a blend of content creation and content curation is crucial; the exact formula is dependent on whether a company wants to be seen as a proactive leader and thoughtful communicator, or come to the table with the minimum requirements to establish credibility. Whatever the ways and means, credible content marketing in healthcare is an essential component to your online marketing strategy, and should be considered carefully.
Interested? Let's talk.
Call me now at 203.247.0796 or JGrace@ChiefOutsiders.com