Situation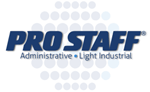 Pro Staff, a privately held staffing services firm, was a very successful entrepreneurially driven company that had grown organically largely through the hiring of talented general managers and giving them the freedom to lead and develop their markets. As they grew, they began running into the same customers and prospects and discovered that Pro Staff meant different things in different markets which was diluting the power of the Pro Staff value proposition and weakening its esteem. Pro Staff faced an opportunity to bring strategic consistency to its brand, and to its sales process, with the objective of increasing sales conversions while building brand equity and preference.
Business Objective
Unite the brand under a single, compelling positioning with a unified image and presentation across all markets while preserving the sense of ownership and entrepreneurial spirit in each of the local markets. Communicate the brand consistently in all channels to build brand equity and advance the sales process.
Approach
A combination of effective marketing research tactics that sourced insights from clients, prospects and contract employees along with extensive conversations/interviews with general managers and their local market sales and recruiting teams were utilized:
To clarify specific local market needs.
To identify the optimal, most compelling positioning and how best to communicate with prospects/clients and contract employees.
To build support for the strategy of unifying the brand with internal Pro Staff leaders and team members.
Results
We created a unifying brand strategy, image and positioning that supported 30%+ annual growth and accelerated the expansion from 13 to 31 markets and 75 to 200+ branch locations in 3 years. We aligned the organization around a core positioning and built internal and external marketing programs to reinforce and capitalize on the new direction.