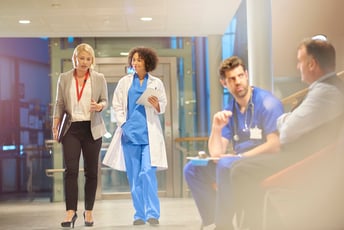 In the private equity world, there's a fairly well-established recipe for success that works in most instances – keep an existing customer base, grow new business, manage expenses, maximize revenues – and sell for a higher multiple within three to five years.
In the world of healthcare, a combination of challenges unique to the industry creates significant headwinds:
Regulatory agencies drive policy and reimbursements
Medicare and commercial payers continue to shift from fee-for-service to value-based payment programs
Market pressures can include consolidation and saturation
Practice expenses and operational costs continue to escalate.
This means the usual norms for other acquired professional services simply do not apply. These challenges can be a painful proposition to swallow when investor cash is on the line, and the clock is ticking.
I recently spoke with the principal of a private equity firm who had leapt before he looked. They had acquired a healthcare company several years prior, and were now frustrated that its profitability had stagnated, with no end in sight. Though they had spent a great deal of money on marketing tactics, patient volume had declined, and they wanted to know what it would take to ultimately reach its exit goals.
It became evident during our discussion that the principals who acquired this healthcare company failed to ask several fundamental questions surrounding the firm's marketing footprint prior to signing the papers.
Asking the following questions, which represent a marketing "due diligence," can be as critical to the evaluation of the pending acquisition as are questions about financials, client base, physical assets and the like:
1. Do we have the right healthcare marketing leadership in place to achieve our goals?
As we said before, marketing for healthcare requires a specialization – simply installing a marketer without an appreciation for the vagaries of the healthcare industry can create a significant disconnect with the market. In the example I mentioned, it was clear to me that not only did this company have the wrong leadership in place, but they did so for so long, that they were going to have to invest tens of thousands of dollars in new and more congruent marketing strategies and tactics just to regain the lost volume of a year ago.
Understanding the unique level of sophistication required in healthcare marketing takes someone who is significantly more high-level in nature. A seasoned CMO with extensive experience in dealing with the nuances of healthcare can help you to ensure that the business plan and market strategies are aligned and congruent. This is a critical step that must be undertaken before Dollar One is spent on tactical execution.
2. How do we ensure our marketing strategy and go-to-market plans are right for this particular healthcare market challenge?
It's critical from the outset to look at the analytics – undertaking a market assessment and competitive analysis, at a minimum – to understand the company's unique positioning and value proposition within its market, and among its competitors. Marketing strategies for healthcare companies are not plug-and-play – they require custom insights, developed with a deep understanding of the industry and how care is delivered. Special consideration must be given to things like the development of a long-term strategy, SWOT analysis, competitor audit and research on the customer experience. This last point cannot be underscored enough: A huge key to healthcare growth is both the voice of the patient, and the perspective of the client or customer, in a B2C environment. Talking to them to gain an understanding of the company's reputation, value proposition, and identity is a requirement if you are to build a marketing plan that is poised for growth.
3. How do we ensure our plans are being implemented at the right pace and at the right price?
Part of your assessment has to be whether the existing marketing lineup – the holistic combination of personnel, advertising agencies, media outlets, grassroots elements, digital, and the like – are having an impact. Gauging whether this combination is right for the business requires an understanding of the level of sophistication of the marketplace, payers and providers; a sense of what the competition is doing; and observations on patient trends.
In my last engagement, the offering was so late to market that they found themselves in cleanup mode. It turns out that the leadership spent so long pondering concerns about regulatory changes, pending changes to reimbursement, that they missed their limited window to make money. The lesson to learn here is that in healthcare, there is no time to get mired in analysis paralysis. The time from acquisition, to planning, to implementation, has to be quick – we're talking weeks, not months -- with flexibility along the way to make changes. Additionally, the budget has to be enough to make a significant impact, given the competitive landscape, market, geography, payer landscape, and other factors. One would not expect to spend in Dallas what one would spend in New Orleans. Missing the mark on the budget number can have fatal consequences.
It is said that nothing that is worth doing comes easy – and for private equity investors looking to venture into the world of healthcare, this is especially true. Though solid marketing can be the X factor that can secure a successful return on the investment, a laissez-faire approach can cause an unrecoverable freefall. For the right level of healthcare marketing insights, consider engaging a fractional CMO with experience in healthcare marketing, to ensure you're poised for success from the moment of engagement.