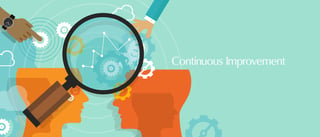 Kaizen is a Japanese philosophy that focuses on continual improvement throughout all aspects of life. Through a journey of seven steps, which includes identifying opportunities, developing an optimal solution for growth, and studying the results, the principals behind kaizen can act as sound structure to help your organization's way to continuous process improvement – both in product manufacturing and product marketing, which in turn will lead to stronger profits and returns.
Are you looking for a reliable lens in which to improve your product output processes and market your way toward success? It's all too easy to ignore the leading profit impact for products – the cost of the product itself.
Let's face it: Your cost of product determines your pricing, and therefore, your gross margin. Without healthy gross margin, your profit falls. Ensure that you constantly examine the critical inputs to product cost – and utilize the Kaizen method to evaluate them on an ongoing basis.
These crucial inputs are:
People/workforce
The name of the game is making your manufacturing capability smarter to reduce product cost. As manufacturing evolves rapidly, Supply & Demand Chain Executive says a combination of automation and advanced robotics and skilled labor is considered the gold standard for getting the job done. When was the last time you evaluated your manufacturing processes?
The usage of advanced robotics and automation isn't completely focused on direct labor cost removal; instead, it's more focused on quality and flexibility. Evaluate how you may be able to upgrade your automation and labor tools to potentially reduce the cost of your product.
Materials Advancements
Are advanced material shifts standing in the way of a better margin? From titanium to platinum to PEEK, there may be a better way to produce your product and provide more of the value your client is looking for. Materials advancement is rapid, so make sure you stay ahead. This includes understanding the latest advancements in green and eco-friendly options, which may even help you discover a new product avenue.
Design, Colors, and Packaging
Would a sleeker product design cut the cost of materials or production? Do your colors and packaging need to be evaluated, both to lower cost and maximize product marketing success? Ensure that your design team (if you have one) understands how to design for manufacturing. Is your packaging over-engineered for the job it needs to do? Can colors be molded in and not added in as separate processes? Can one screw take the place of two? Can you complete the job without a screw? Simple questions can yield big results.
Location Impact
Where do you manufacture your product, and what impact does your location have on cost? From labor and transportation costs in your given area, to area tax incentives or location of materials, are you leveraging where you manufacture your product to the best of your ability for your team, vendors and customers?
Robust Ex-Factory Costing Model
You should always be working to keep your ex-factory cost, or ex-mill, as low as possible. Avoid the double-take by employing the Kaizen technique to relentlessly innovate the elements that affect your costing model. Examine every expense regularly and work to build predictive models on the key variables.
If you are not sure of the critical inputs and how to account for them, it will be impossible to get out in front of the planning cycle, and your focus will become reactionary. Build a clear definition of what ex factory cost inputs are and which ones are not. Measure them and report them on an ongoing basis.
Make sure Manufacturing and Marketing Understand Each Other
Your manufacturing team needs to understand your marketing strategy – and your marketing team needs to understand your factory capabilities. Make sure each element of these two teams are in sync, so there are zero mismanaged expectations. When these two teams are in sync, the customer always wins.
Set Targets, Measure Ongoing, and Repeat
Keep the Kaizen method going on all cylinders – at all times. The evaluation and measurement should always be moving – just like your manufacturing. Set targets for your team, evaluate, adjust, and repeat.
Maximizing Your Product and Business Potential
Creating a solid strategy centered around Kaizen can help optimize your manufacturing processes inside and out, and keeps the wheel turning by constantly evaluating if your product vision is well married to the results and feedback you're getting from your sales numbers and customers.
If your vision, product, materials, or capabilities change in the future, Kaizen will always be there to help. By applying this trusted optimization process to your manufacturing goals today and tomorrow, you can ensure your process ROI will benefit all other arms of your business. More importantly, you will discover new strategies, opening doors to fresh, innovative opportunities.